Scott and Angela Helbing had worked with many contractors. They never had good experiences. Home-improvement projects ran over budget. Electricians didn't show up on the day a rewire was scheduled. Construction crews turned in shoddy work and then vanished.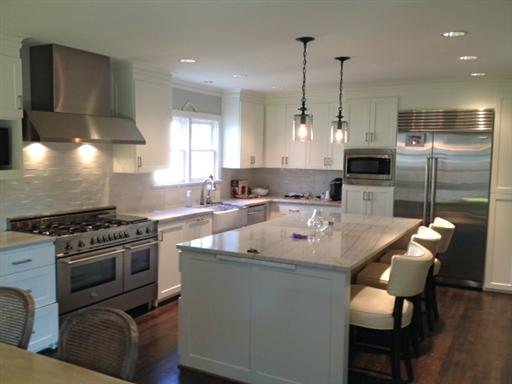 And, the contractors that the Helbings hired never finished their jobs on schedule.
But that changed when the Helbings worked with Park Cities' Princeton Construction to tackle a major remodeling of the couple's University Park home, a project that the local construction company completed in late August.
The Helbings had nothing but praise for Princeton and its owner, Wes Marmaduke.
"We have had bad experiences with contractors in the past. Our experience with Wes was the complete opposite," said Scott Helbing. "Wes always exceeded our expectations in terms of quality of work, organization and integrity. If we ever build another home in the future, we would not even consider using anyone else."
This is the type of recommendation for which Marmaduke strives. He calls himself a low-volume builder, meaning that he and his crew members don't juggle multiple building projects. Princeton Construction focuses on one building project at a time in order to efficiently and effectively complete the job.
This low-volume approach gives Marmaduke the time to answer clients' questions and directly supervise the work of his construction crews. Because Marmaduke's crews don't face multiple deadlines on multiple projects, they're not tempted to take the shortcuts to which other builders sometimes resort.
"The low-volume approach has worked for me," Marmaduke said. "I can't imagine giving each project my personal attention if I was working on three, four or five at once."
The Helbings' project was one that required this attention. It was far from a simple job. The Helbings hired Princeton to add a pair of second-floor bedrooms and bathrooms and a new laundry room. Princeton also remodeled the home's kitchen, added a back porch and fireplace and landscaped the entire yard.
Marmaduke was personally involved in the project from the start, Scott Helbing said. During Marmaduke's first visits, he and the Helbings discussed the couple's goals for their home and what steps Princeton could take to help them reach those goals. Marmaduke then worked closely with an architect to draft the initial construction plans and showed up on site throughout the construction process to make sure that his work crews were turning these plans into reality.
Most important, he kept the Helbings updated throughout the remodeling process.
"At every phase of the project, he continually confirmed that we were happy with the work," Scott Helbing said. And he was always willing to make any changes that we requested."
The Helbings lived in their home during the six-month remodeling process. It's never easy living through construction work, especially work as intensive as what the Helbings ordered for their home, but Marmaduke and his crew took the steps necessary to minimize the disruption to the couple.
"At every phase of construction, Wes went out of his way to ensure that the house remained clean and that we were disrupted as little as possible," Scott Helbing said.
Marmaduke and his crew even built an exterior staircase in the back of the house so that the sub-contractors were able to work without disrupting the front of the home.
"It does take longer to do a job right," Marmaduke said. "But, it pays off in loyal customers."
If you are ready for a new home, or if you need to bring new life to an outdated kitchen or bath, call Princeton Construction at 972-471-9126.
Princeton Construction
by Wes Marmaduke
972-471-9126
http://princetonconstructiontx.com